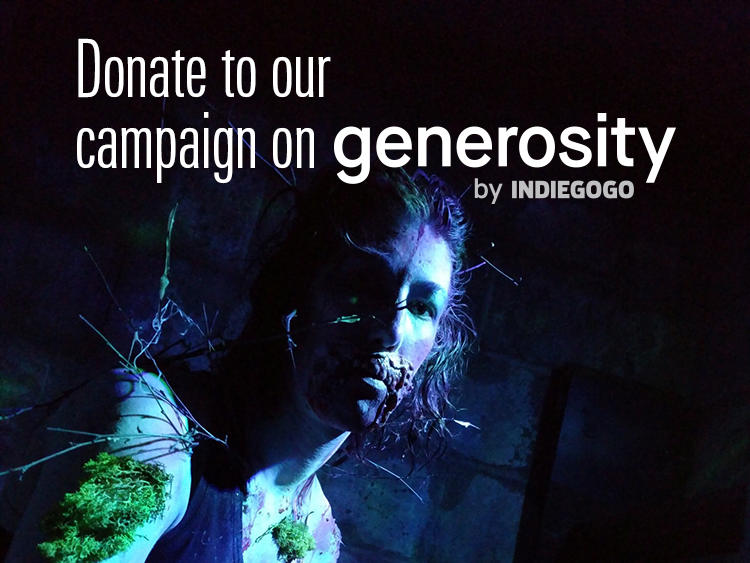 HAUNTED BASEMENT FORMS INDEPENDENT COMPANY, LAUNCHES FUNDRAISER, SEEKS NEW HOME TO HAUNT
MINNEAPOLIS, March 27, 2017 – Hot on the heels of announcing its emancipation from the depths of its longtime home at The Soap Factory, the tortured souls of The Haunted Basement are excited to embrace its newest mutation: The decade-old artist driven horror attraction is officially operating as an independent non-profit organization.
Helmed by Creative Director Christopher Barton, Production Manager Sarah Salisbury, and Operations Director Walker Friend, the Haunted Basement now moves forward as its own entity, providing the annual screamfest for which they've become known and loathed. Program Manager Becci O'Kane and Business Manager Bo Brunner also join the Haunted Basement's leadership team, adding abundant organizational skills to this ambitious new step in the program's journey.
Chief among the team's objectives is finding a new home – a challenge for which they're keeping a collective open mind.
"We each have our wish lists, but we're truly thinking outside the box as much as we can," Barton said. "A new space means an unpredictable experience for our audiences in the future, especially those folks who visit us every year and probably have the floor plan memorized by now. We're keeping an eye on flexibility and how we can use our imaginations to make our next space feel more like opportunity than compromise."
The Haunted Basement crew is currently seeking out the dankest basements, darkest warehouse spaces and the strangest empty structures the Twin Cities have to offer. Anyone with ideas regarding ideal spaces for these Creeps to hang their horrible hats is encouraged to send suggestions to info@hauntedbasement.org.
Linked to this objective is an Indiegogo fundraising campaign (https://www.generosity.com/fundraising/the-creeps-need-a-home–2/x/16358426) launched today by the Haunted Basement, aptly titled "The Creeps Need a Home". According to the organization's representatives, the casting out of their menagerie of ghouls and evil clowns from their previous home has become something of a problem.
"All the Creeps had to go somewhere so they FOLLOWED US HOME," Salisbury explains on the fundraiser web page. "You would think that that would be fun, having your very own Creep in your house, but it's not. They've smashed half of my dishes. I haven't seen my cat in a while. They're up, screaming at all hours. And they like to wait until I'm asleep and squirt me with water. At least, I think it's water."
Recorded footage of displaced Haunted Basement Creeps infiltrating homes of the project's personnel will be posted on the fundraiser web site and throughout social media, with frequent updates and incident reports.
The fundraising campaign will also offer a number of incentives for donors, ranging from t-shirts and tarot decks to opportunities for exclusive experiences crafted by the Haunted Basement crew.
For more information about the Haunted Basement's fundraising campaign and updates on its quest to find a new home, visit hauntedbasement.org.
JOINT PRESS RELEASE FROM HAUNTED BASEMENT AND SOAP FACTORY
HAUNTED BASEMENT TO FORM INDEPENDENT PROJECT
MINNEAPOLIS, March 20, 2017 –  The Soap Factory and its longtime downstairs resident The Haunted Basement are excited to announce the next evolution of the Haunted Basement as an independent project!
For the past decade, the Haunted Basement operated as a program housed and managed by The Soap Factory. The annual thrill attraction has evolved into a marriage of installation art and theatrical set design, providing environments for performers of all stripes to confound audiences as part of an immersive, horror-fueled production. In 2016, the Haunted Basement and The Soap Factory celebrated the ten-year anniversary of the project with its highly successful "HBX" performances.
Earlier this year, The Soap Factory announced it would be undergoing a year-long renovation to its historic building, providing an opportunity to envision the 2017 Haunted Basement program being delivered in other locations.  This exciting conversation led naturally to a discussion about program independence and growth, an opportunity which the HB creative team grabbed.
The Haunted Basement is led by Creative Director Christopher Barton, Director of Production Sarah Salisbury, and Operations Director Walker Friend. The trio, along with the Basement's team of designers and performers, look forward to creeping into its second decade, balancing its new direction with the same mission of creating a unique, artist-based horror experience.
"The Soap Factory's basement was a star performer in its own right – creepy, dark, and full of twists and turns without any of us having to add a thing," said Creative Director Christopher Barton. "It was that supernatural quality that made The Soap Factory such a great setting for our project. We're excited to see where this next step takes us, but we're going to miss running our performances in that gorgeously awful, ghost-infested space."
"The Soap Factory has, and will always be, a place for experimentation and risk-taking.  It is a huge success to see a program grow beyond The Soap Factory and take flight on its own," echoed the Soap's Executive Director Bill Mague.
More details about the Haunted Basement, including news about this year's production, are forthcoming.
For more information about the Haunted Basement, visit hauntedbasement.org.
Contact The Soap Factory at (612) 623-9176 or visit www.soapfactory.org.
<!– Begin MailChimp Signup Form –>
<!–End mc_embed_signup–>